Grand Challenges Background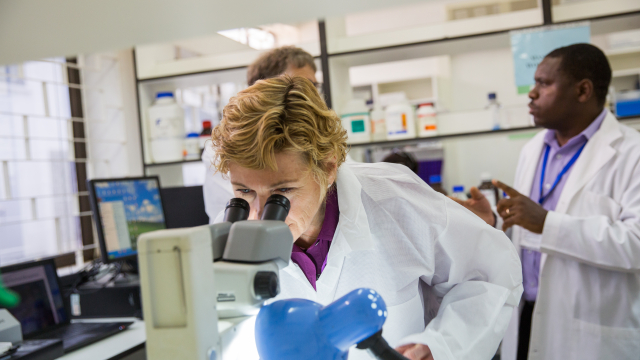 Sue Desmond-Hellmann in Tanzania
Bill Gates and Sue Desmond-Hellmann are given a tour of the laboratories at the Kilimanjaro Christian Medical College in Tanzania on July 25, 2014 ©Bill & Melinda Gates Foundation/Samantha Reinders
WHAT IS GRAND CHALLENGES?
The medical, agricultural and sanitary innovations of the past 50 years have made an historic impact, and are largely responsible for the decline in annual child deaths from more than 20 million in 1960 to 8 million today. But traditionally, the problems that disproportionately affect the poorest have not benefited from innovation. That must change for big advances in health and development to occur. Grand Challenges is a family of grant initiatives focused on overcoming persistent bottlenecks to create new tools that can radically improve health in the developing world. A decade after its founding, Grand Challenges has galvanized new approaches that could one day impact millions of lives.
http://www.grandchallenges.org
For any inquiries please contact Cecilie Sørhus on Cecilie.Sorhus@gatesfoundation.org.
For any media inquiries or requests for Richard Branson, please contact Tamara Bennett on Tamara.Bennett@virgin.com.