Reinvent the Toilet Fair: India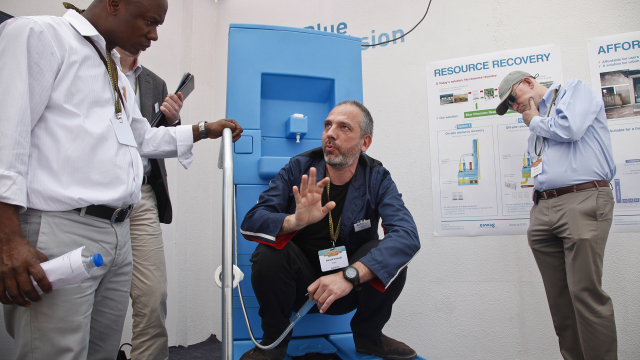 New Delhi, India, 2014
Christopher Elias (President, Global Development and Dr. Doulaye Kone (Senior Program Officer, Water, Sanitation & Hygiene) at the Eawag exhibits at the Reinvent the Toilet Fair - India in New Delhi on March 19, 2014.
EVERY DAY, 2.5 BILLION PEOPLE WAKE UP WITHOUT ACCESS TO TOILETS, RISKING THEIR HEALTH AND SAFETY.
The Reinvent the Toilet Fair: India is an opportunity to change that. Featuring partners of key Government of India ministries, and the Bill & Melinda Gates Foundation, the fair showcased innovative products and approaches that aim to bring safe, affordable, and sustainable sanitation to those who need it most. These include efforts to create toilets that are not connected to water, sewer, or electricity; to improve the collection, treatment, and disposal of human waste; to address behavior change; and to raise awareness of this critical issue for governments, stakeholders, and local communities.
http://www.gatesfoundation.org/What-We-Do/Global-Development/Water-Sanitation-and-Hygiene

read more